Strata Identity Named Top Cybersecurity Startup for 2021 in Black Unicorn Awards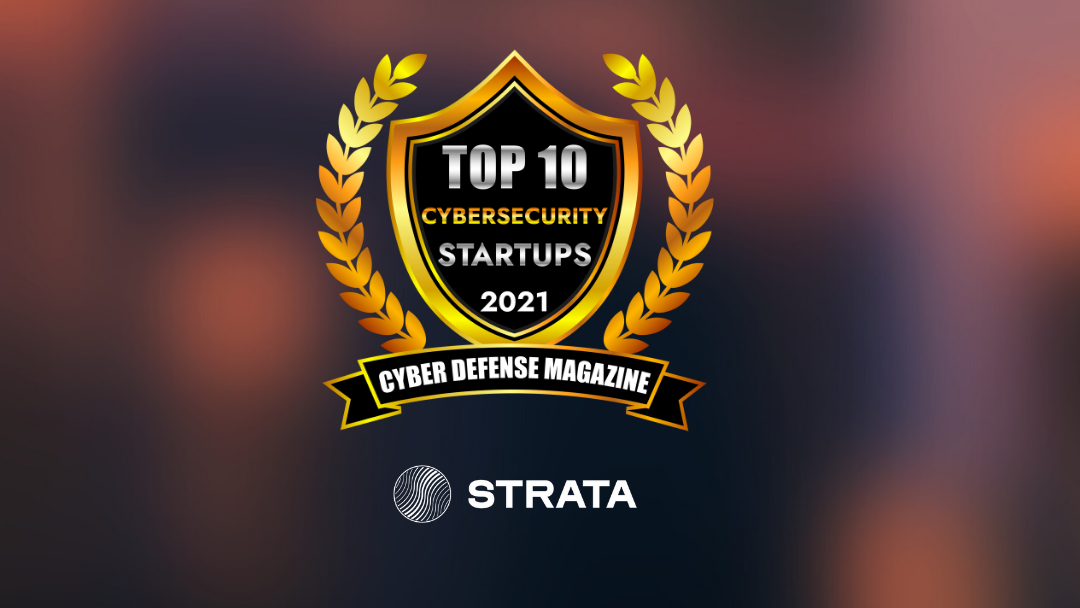 M
ulti-cloud Identity Orchestration Provider Selected as Company to Watch at Black Hat USA
BOULDER, Colo., Aug. 2, 2021 – Strata Identity, the distributed, multi-cloud identity orchestration company, today announced it has been named a winner of the 2021 Black Unicorn Award as a Top 10 Cybersecurity Startup of the year. Presented annually at the Black Hat USA conference, the Black Unicorn Awards recognize companies that have the potential to achieve unicorn status, namely a $1 billion-dollar market value as determined by private or public investment sources.
The company was also recently named a top emerging vendor by CRN, one of CSO Online's Cybersecurity Startups to Watch, and the first runner-up in the 2021 RSA Innovation Sandbox Competition.  
"We're pleased to recognize Strata Identity as a Top 10 Cybersecurity Startup for 2021 in our third annual Black Unicorn awards, the company is in a small, elite group," said Judges Robert R. Ackerman Jr. of www.allegiscyber.com, David DeWalt of www.nightdragon.com, Dr. Peter Stephenson of Cyber Defense Labs and Gary Miliefsky of www.cyberdefensemediagroup.com. 
"Being named a Black Unicorn Top Cybersecurity Startup at Black Hat USA validates our vision and approach for solving the multi-cloud identity management problem using identity orchestration," said Eric Olden, CEO of Strata Identity. "With more than 93% of enterprises using multiple clouds and several different identity systems both in the cloud and on-premises, we are addressing an urgent pain point by helping customers seamlessly bridge the old and new world of identity."   
Strata's Maverics Identity Orchestration Platform™ is the first distributed, standards-based orchestration solution that automates multi-cloud and hybrid cloud identity management. With Maverics, organizations can enable legacy on-premises identity to coexist indefinitely with modern cloud identity systems, all without making any code changes to their applications. The average large enterprise has hundreds of applications. Because identity systems are tightly integrated with each application, Maverics represents a game-changer for companies that are undergoing digital transformation, modernization, and cloud migration. 
About Cyber Defense Awards
This is Cyber Defense Magazine's 9th year of honoring cybersecurity innovators, in this case the Black Unicorn Awards for 2021 on our Cyber Defense Awards platform. In this competition, judges for these prestigious awards includes cybersecurity industry veterans, trailblazers and market makers Gary Miliefsky of CDMG, Dr. Peter Stephenson of CDMG, Robert R. Ackerman Jr. of Allegis Cyber and David DeWalt of NightDragon with much appreciation to emeritus judge Robert Herjavec of Herjavec Group.  To see the complete list of Winners for the Black Unicorn Awards for 2021 please visit https://cyberdefenseawards.com/black-unicorn-awards-Winners-2021/ 
About Strata
Strata is pioneering the concept of identity orchestration for distributed, multi-cloud identity. The Maverics Platform enables enterprises to seamlessly unify on-premises and cloud-based authentication and access systems for consistent identity management in multi-cloud environments. Strata's distributed approach to identity enables organizations to break decades-old vendor lock-in, preventing a broader transition of enterprise workloads to the public cloud. The company's founders co-authored the SAML open standard for identity interoperability, created the first cloud identity services, delivered the first open-source identity products, and are now building the first distributed identity platform. For more information, visit us on the Web and follow us on LinkedIn and Twitter.
Media Contact:
Marc Gendron
Marc Gendron PR for Strata
+1-617-877-7480
[email protected]
# # #
Published August 2, 2021 5:39 PM