RECIPES › PASSWORDLESS > HYPR AUTHENTICATION
Ingredients
Azure AD
HYPR
Maverics
Target App
HYPR Authentication
Use this recipe to:
Quickly deploy HYPR passwordless protection to any on-prem or cloud app
Phased deployment reduces risk and supports coexistence of authentication solutions
Enable new recovery options via orchestration of additional authentication solutions
Reduce friction by enrolling users to HYPR within existing access workflows

Recipe summary: HYPR Authentication
This recipe demonstrates how you can leverage AzureAD as your cloud identity target and add HYPR passwordless protection to any app without rewriting it. Modern authentication solutions like HYPR add the latest FIDO2 passwordless security to your existing business applications. Deploying these passwordless authentication solutions to your applications often requires access to the source code to rewrite the apps and accept HYPR as the strong authentication provider. The Maverics Identity Orchestration Platform allows you to quickly and easily deploy no-code HYPR FIDO2 security to any app across your company.
Recipe instructions: HYPR Authentication
Recipe sequence diagram: HYPR Authentication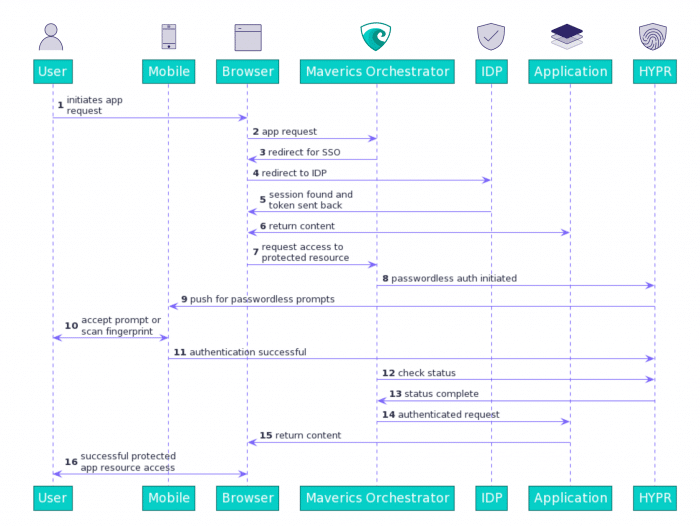 Recipe YAML config settings: HYPR Authentication
Maverics Identity Orchestration works with a simple YAML config* (as shown in the figure to the right). No app rewrites or custom code is required. Download this recipe's full config file below.
*Config may vary based on your environment.